23 Jan

Get yourself noticed at the GLA Annual General Meeting.
As you are all aware the AGM is quickly approaching.
We are offering sponsorship deals for the AGM in Panama city 10th-12th March 2019.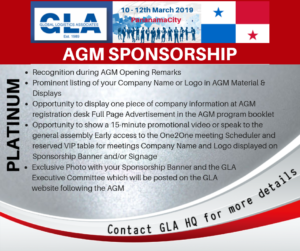 All sponsors will be included in the GLA Social Media (Facebook / LinkedIn / Twitter) messages regarding the AGM.
In view of the preparations and the required budget to organize the various AGM events, your feedback and participation as active sponsor is appreciated by latest 14th January 2019 – an earlier response is highly appreciated.
Contact maureen@glanetwork.com or aline@glanetwork.com