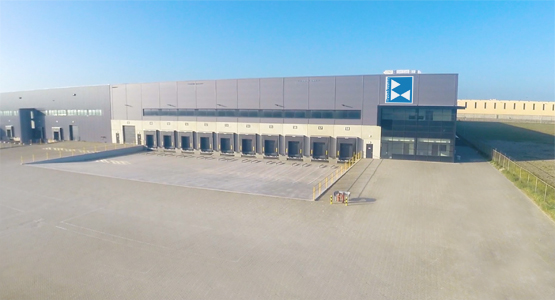 27 Mar

Broekman Logistics opens new warehouse

Rotterdam, 22 March 2018 – Today is a festive occasion for Broekman Logistics. During the official opening of the warehouse at Makassarstraat 1 in the Maasvlakte industrial area, the new BLUE4C concept was unveiled. With this concept, Broekman Logistics addresses four important trends in the field of warehousing & logistics, and takes the next step in the combined storage of hazardous and safe products at a single location.

Broekman Logistics' combined storage locations are located in the 'Top Corridor' area. With them, Broekman Logistics can offer its customers the possibility to serve the European market directly and conveniently. All of the locations meet the strictest safety and environmental norms.

The customer is always our highest priority, and we can offer logistical solutions tailored to each customer's needs, including assembly, in order to help our customers react to changing market- or client needs.
BLUE4C
Blue stands for Broekman Logistics Unlocking Europe, and 4C is short for Coordinates, Combination, Customised & Compliant. The concept deliberately links the '4' and the 'C', to symbolise a combination of factors.
With the new concept, Broekman Logistics addresses four recent trends: shifting modalities, rising product-market combinations that require different warehouses, changing safety standards, and the globalisation of production and logistics.
"BLUE4C perfectly complements our growth strategy in the Netherlands. We aim to be and remain the market leader in the field of ADR storage. We also offer warehousing capacity at strategic locations in order to continue to meet our customers' needs", according to Willem Jan van Amersfoort, Managing Director of Warehousing & Distribution.
Strategic location for storage of hazardous and safe products
With the new warehouse at the Maasvlakte, customers can store both hazardous and safe products at a strategic location near the container terminals. The facility offers more than 35,000 m2 of warehouse capacity.
This brings Broekman Logistics' total warehousing capacity in the Netherlands to more than 310,000 m2. A third of this is designed for the storage of hazardous materials (ADR).
About Broekman Logistics
Broekman Logistics was established over 55 years ago at the Port of Rotterdam, and has since grown to become a full-service logistics services company employing about 800 people and with offices in the Netherlands, China, India, Singapore, Belgium, Poland and the Czech Republic. Broekman specialises in forwarding and shipping, warehousing and distribution and break bulk terminals. Broekman's services are characterised by a global reach with a personal touch (www.broekmanlogistics.com).